Don't you just love all of these different national food days? You can't go wrong with many of them: donut day, ice cream day, margarita day, to name a few. But did you know that the chocolate chip cookie also gets a well-deserved day? Here are a few bits of information you should know about these fabulous sweet treats so you can appreciate them when the big day rolls around.
The only sure fact about the origin of chocolate chip cookies is that they came out of the kitchen of Ruth Graves Wakefield of the Toll House Inn in Whitman, Massachusetts. Exactly how they came about is surrounded in myth. One myth says that the cookies came about as sheer accident when she ran out of nuts for her Butter Drop Do Cookies, a recipe dating back to Colonial days, and substituted chopped Nestlé Semi-Sweet Chocolate chopped into tiny bits. Evidently she expected the chocolate to melt. Instead the chocolate held its shape and a new, tasty cookie was born.
Another version of the story goes that she and chef Sue Brides invented the cookie when they wanted to change the traditional thin butterscotch nut cookies that she served at the Toll House Inn with ice cream. According to Carolyn Wyman in "The Great American Chocolate Chip Cookie Book: Scrumptious Recipes & Fabled History from Toll House to Cookie Cake Pie," Wakefield is reported to have said, "We had been serving a thin butterscotch nut cookie with ice cream. Everybody seemed to love it, but I was trying to give them something different so I came up with the Toll House Cookie." which was called the Toll House Chocolate Crunch Cookie.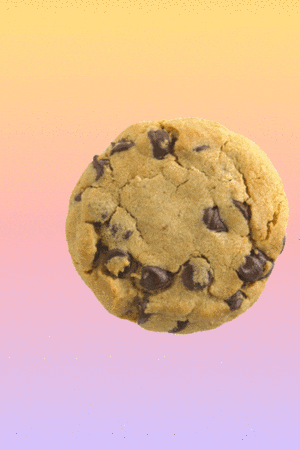 According to the December 19, 2013 "New Yorker," an even more far-fetched take says that the vibrations from an industrial mixer accidently caused chipped chocolate stored on one of the shelves in the kitchen to drop into a vat of cookie mix.
But no matter which story you choose to believe, the cookie became an immediate hit. Wakefield sold the recipe to Nestlé, supposedly for $1.00 and a lifetime of free chocolate, and the rest is history once the recipe was published in a Boston newspaper and regional newspapers through the New England area.
Since that time numerous bakers have tried to improve Wakefield's simple recipe. The original recipe can sometimes come out super flat or too crispy, so changing the amount and type of flour or adding a different leavening agent can make your cookie a little different. Experimenting with the chocolate chip cookie may be one of the best science fair projects of all times, especially when it comes time for taste-testing the results. The cookies have been improved upon by turning them into bars or using them to hold ice cream like a sandwich. And then there's cookie dough ice cream, which wouldn't even exist without the chocolate chip cookie.
Whether you like your chocolate chippers warm out of the oven, surrounded by vanilla ice cream, or straight out of the package with a spoon, it's time to celebrate the cookie to the fullest and give thanks for this wonderful cookie.